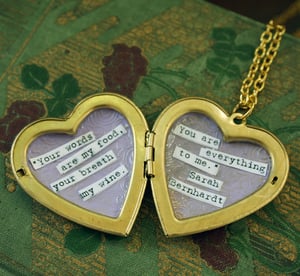 $

35.00
Fabulous large embossed brass locket hand enameled with a typed Sarah Bernhardt quote.
"Your words are my food, your breath my wine. You are everything to me"
I'm a little obsessed with these lockets and they're absolutely my new favourites.
They hang long and look awesome.
Can be worn open or closed.
Fun, poignant and pretty!
These are made to order, so please allow a little extra time and allow for minor differences.